November 4, 2020
Vitra Originals high quality allows us to offer a 10-year warranty on a selection of Vitra Originals products purchased from September 1, 2020.


An original will keep its value forever. An imitation can never be anything other than a copy, a stolen idea. The difference lies in the details – not only in quality or other more obvious connotations, but also in the sensory and emotional pleasure of the authentic product. An original is a companion for life and may last even longer than us to be gratefully received by the next generations.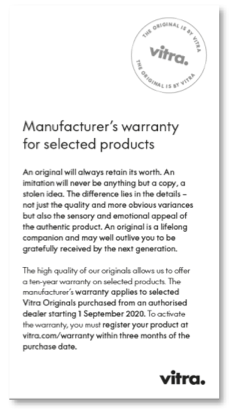 To activate the 10-year warranty, simply register your product within 3 months from the date of purchase. You can register a product in a few minutes by following the step-by-step process on the website page: www.vitra.com/warranty. On the site there is also a detailed list of products covered by the warranty.
The original purchase receipt is required for registration to be successful and the 10-year warranty to be activated.
We will be happy to provide more information about the warranty and how to register through our contact methods.
---
Discover our selection of Vitra products here. You can shop online or come and visit us to try these design icons in total safety.