Poltrona Frau furniture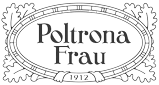 Poltrona Frau is an Italian company, founded in 1912, which operates in the furniture and design furniture sectors.
Poltrona Frau sees its maximum achievement in upholstered furniture, including Poltrona Frau chairs, armchairs, sofas and beds, by which it distinguishes itself worldwide for their design.
The elegance of timeless design, the personality of Poltrona Frau armchairs and beds, the result of expert hands of artisans who have been passing on their knowledge for more than 100 years.
The skill linked to the research of materials, to offer the best of leather and leather, offers Poltrona Frau design furniture products.
---
Our Armchairs, Sofas and Beds of the Poltrona Frau brand